How to Interview a Real Estate Agent
AND MAKE SURE YOU GET ONE WITH SKILL!
As someone who grew up in Faulkner County I have found myself the recipient of many great listings just because the people know and trust me. I must confess for this reason my listing presentation skills are not that great. This past year I had the honor of meeting what would turn out to be a sweet client and a great friend, Cindy. But make no mistake this lady is tough! She was referred to me by a local loan officer but we had never met. I showed up reasonably ready to go through my list of things I do to sell homes but she was armed even more with a litany of questions! Fortunately I knew my practice and the real estate market in general so I was able to answer almost every question, I couldn't help but wonder if she noticed the sweat on my forehead when she pulled out "the list". This list would eventually become an outline for training in my office and would become the genesis of my now well honed listing presentation! It was very eye opening! Thank you Cindy not only have I come to enjoy your friendship but I learned from you as well and its made me a better agent!
Interviewing a Realtor is something every seller should do, even if you've known them your entire life! This should be one of the most critical things on anyone's agenda when considering selling their home, yet many do not take the time to do so. Asking smart real estate interview questions is critical so let me share some of the Cindy interrogation tactics which proved to be one of the smartest things I've seen anyone do!
One of the biggest issues I have found is that so many consumers think that all Realtors do the same things to sell homes. This could not be further from the truth!
In most businesses 80% of the sales are done by 20% of the people. The traditionally 80/20 rule that you hear so often. In Real Estate it is a stunning 94% to 6% ratio! That is just an incredible statistic. Given these figures is there any wonder why there is so much dissatisfaction from Real Estate consumers? It is extremely easy to get stuck with a Realtor who does not do much business or worse does not have a great work ethic. It is even easier to get stuck with a Realtor who doesn't know their market or practice.
So how do you avoid this unfortunate scenario? By asking great interview questions of course! Trust me when I tell you, these questions will make even a skilled Realtor very uncomfortable. I have dubbed this my "Cindy standard" – There is no better recommendation than a track record of success. As a home seller, you will be paying a Realtor a lot of money to sell your home. Why not work with a Realtor who performs on a consistent basis and a high level? There is a reason why some Realtors continue to be successful year after year.
As far as commission is concerned, it does not cost you anymore to work with an exceptional agent than someone who doesn't do much Real Estate business or worse yet who doesn't take care of business. (You know the type, the agent whose family knows everyone in town so they get the listings without any interview standard but you quickly find out they don't want to be bothered with the little things like paperwork, meeting inspectors, returning your phone call, etc. . ) So let's delve into "The Cindy Standard" so we can make sure you will end up happy with the process of selling your home.
1. How long have you been selling real estate?
Experience is very helpful but doesn't necessarily mean that a newer agent couldn't be a rising superstar. Many of the other Realtor interview questions below, however, will help determine whether the agent has the potential to be one.
2. How many homes did you sell last year as a seller's agent?
This interview question has a high level of importance! Do you want to work with a Realtor who sells 5 homes a year or someone who sells 25? Or let me rephrase that – do you want open heart surgery with the doctor who has done 5 a year or 25 a year . . . now real estate is not open heart surgery and Realtors don't go to school as long as doctors but the point is about experience and with the largest transaction of your life don't you want an experienced agent? This is a really important real estate interview question that most sellers never even think to ask. You want a Realtor who has a track record of success in good markets and bad. The Realtor's prior track record is an important part of how to pick a real estate agent you will be happy with.
3. Of the homes you sold last year, again as a seller's agent, what was the average number of days from the original list price to the accepted offer?
This is a very important statistic because it speaks to how well the agent did their job from day one when they recommended a list price to you. Don't get caught with a Realtor that gives you an inflated value just to get your business. "Buying a listing" is a very common tactic that agents do when competing with other Realtors. This is a real estate interview question that should always be asked!
4. What kind of market share do you and your company have?
This is not necessarily as critical but you should at least be working with someone who has some working knowledge of the town and has sold other homes in the past. Its not about how many agents they have (which is a great way to be #1, but its about the quality of those agents).
5. Do you have an administrator, personal assistant, or buyers agent?
Busy Realtors can have a hard time doing everything well on their own. When a Realtor invests in their business to hire a personal assistant or buyers agent you know they care about personal service. A Realtor can't be in two places at once. A helping hand and great team work speaks volumes about a skilled agent. Ask the agent about their support staff during your interview with them and find out how you will interact with them.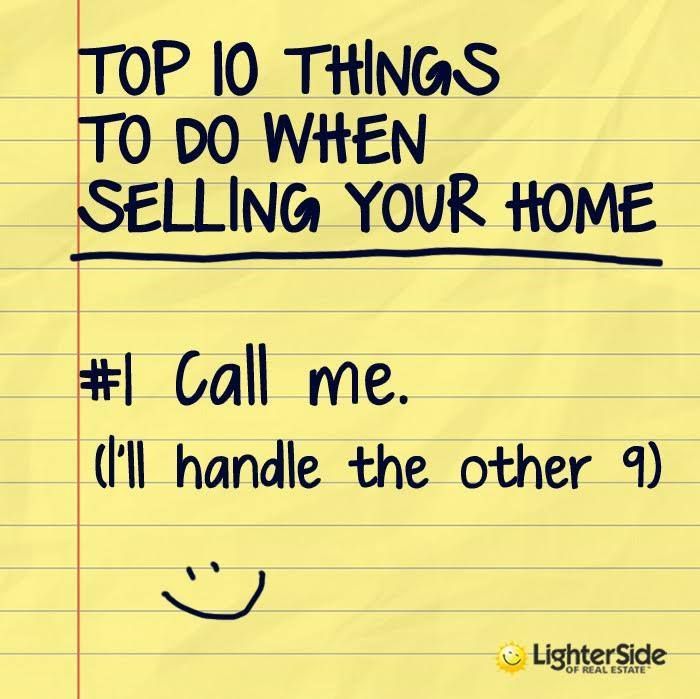 6. Can you provide me with at least three recent references?
A good Realtor should be able to provide you with references that you can get in touch with. Of course every Realtor is going to want to provide you with a hand picked list of people that they know will say wonderful things about them. Instead ask the Realtor for the last three homes they sold and look up the owners on social media and contact them yourself. This will give you a better understanding of the clients satisfaction level. Don't tell the Realtor you are going to call though as you don't want them prepping the person.
7. I have read the Internet is a critical tool for selling homes. How will you market my property online?
This is probably one of the most necessary interview questions you ask the Realtor! You want to align yourself with a Realtor that has a strong understanding of both online and social media marketing. More than 90% of all buyers find their home online. The Realtor you choose should be marketing your home EVERYWHERE!

Drone Tours on Every Listing!
8. Do you have your own personal Real Estate website for marketing homes?
This too is a very important consideration when hiring a Realtor. A top Real Estate agent will invest in having a fantastic website that not only looks outstanding but more importantly attracts buyers for local Real Estate searches. You want your home in the spotlight which can be achieved when the agent you select understands (SEO) ask them to explain it to you.
9. Do you have a Real Estate blog?
Like a website, Real Estate blogs are great avenues to promote properties. You can create entire blog articles about a single home that promotes their best features using multiple photos and descriptions.
10. Do you use social media marketing in your business such as Google Plus, Facebook, instagram, pinterest and Twitter to reach other Realtors and potential clients?
Sites like these are becoming incredible tools for a Realtor to use to cast a wider net to reach potential buyers and sellers. With Facebook they can have their own business page to promote your property or helpful Real Estate articles.
11. Will you be using video and virtual tours to market my home?
This is a real estate interview question you want to ask the Realtor because it shows that they are willing to diversify their real estate marketing. Video is another important medium that has really caught over the last few years and continues to grow! Buyers love to see a video tour of a property they may be interested in viewing. A video tour can be especially helpful to a relocation buyer. The tour used by the agent should be quick to download. Another consideration would be syndicating the video tour to Youtube which gets quite a bit of traffic.
12. Will my home be "enhanced" on the most visited Real Estate websites such as Realtor.com, Trulia.com and Zillow.com?
This is another very important interview question. Real Estate marketing is all about presentation and standing out from the rest of the competition. It is not enough just to be included in the most well know Real Estate sites.
The Realtor you choose should be presenting your home in a number of ways. If you would like a detailed list of the best sites to market homes for sale shoot me a quick email to SavvyRealtyTeam@gmail.com and I will gladly provide it!
13. Do you have a good camera?
Not only is having lots of photos important but the quality of the photography can not be overlooked. I can't tell you the number of times I've seen photos that were dark, or just the corner of a room, or you can see the agent's auto mirror in the photo b/c they wouldn't even get out of the car to take the photos. Some agents like to hire a photography and there is nothing wrong with that but the best agents will invest in all their own equipment. Hired photographers only allow a certain # of photos and very little editing. An agent with the right camera and lens can highlight the property from many angles and take more photos to feature special little amenities that deserve a closer look. You should be looking for an agent that has a good camera with a wide angle lens and knows how to use it. This is another real estate interview question that is often missed. Most people just assume that all Realtors have good business tools, the fact is most don't. They either outsource which again limits the number of photos or the wing it while driving by in their car (shame, shame, shame).
14. Can you show me how to make my home more marketable?
A Realtor should be able to give you some simple advice on how to make your home as presentable as possible. Things like whether or not it would be worthwhile to make an improvement or properly staging a home for sale. The general rule on improvements is to make them when they are really going to enhance the saleability or give a significant return on the money spent. If you follow us on Instagram we are constantly providing staging tips. Our belief is #stagingsells, #clutterkills.
15. When a buyer views my home how will you provide feedback?
It is very important that your agent has a method for obtaining feedback and getting that feedback to you. This way you know how people view your property and make adjustments along the way if needed.
16. How will you communicate with me regarding your efforts?
One of the biggest complaints nationally towards Realtors is a lack of communication. You will want to find out how the Realtor will keep in contact with you. Is it by phone, email, text? A Realtor should be flexible and work in the manner the client desires. Above all else there should be regular communication. Make sure your agent has a plan for how and how often you will be informed on what is going on in your sale.
17. How readily accessible will you be? Do you have a cell phone that I can reach you on when I need to?
Real Estate is a business that people should be able to reach the person they hired to sell their home. A Realtor who has a phone that can receive email understands the importance of rapid communication. You want to make sure your agent will be taking your calls as they come in or will call you back very soon if they are with another client. Now most Realtors, like The Savvy Team, have a day packed with meetings, showings, closings, marketing power hours, photo sessions, blog writing, paperwork, etc. . . but your Realtor should be able to communicate with you at some point in time throughout the day and should be able to describe how that will happen.
18. How will you verify that the buyer is qualified to purchase my home?
The Realtor should be checking that the buyer is qualified by making sure that there is a legitimate pre-approval letter accompanying the offer and speaking with the buyers agent and/or lender. Ask your Realtor what they do to pre-qualify the people who come through your home?
19. How much do you charge to sell my home and why?
The Realtor should be making sure they explain to you how they get paid and what exactly they do for the money earned. Commissions can vary from agent to agent but don't be shortsighted here. If the going rate is X don't necessarily think you are saving money if agent tells you that they will charge Y instead. The flip side of that coin – just b/c the agent charges X doesn't mean your getting X dollars worth of marketing and technology. The status quo in real estate is putting many people out of business. Get an agent and company who is modern, collaborative, knowledgeable, hardworking, and creative then and only then are you getting your money's worth and that is extremely important!
20. Will you allow me to terminate the listing contract if I am not completely satisfied?
This is an important interview question because a Realtor that is confident they will get the job done should have no problem with this clause.
There are some truly great Realtors out there. Sometimes it takes a little bit of time and effort to find them. Don't settle for any Realtor that walks through your door just because you know them or just because they charge less. Go for the hard questions and make sure your happy with the answers!
Well thought out Real Estate interview questions should be something every home seller does! I have other questions and suggestions on how to hire a great Realtor. I would love to provide you copy, just shoot me an email @ SavvyRealtyTeam@gmail.com or call us @ 501-514-5300. We would love to share our knowledge and to be considered as your Next agent – #WhosNext to #GetSavvy.
Thanks to all who contributed to this article written by Wendy Ferguson, a veteran real estate agent in Central Arkansas, Principal Broker and Owner of NextHome Local Realty Group!