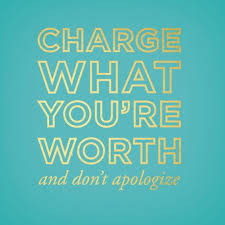 Ever wonder how many people are involved in a real estate transaction? Believe it or not, a typical sale today involves more than 20 steps and can require over a 100 different people. Less than 20 years ago, a property could be bought with a simple two-page contract. Today, there are better laws to protect the consumer, which include mandated disclosures; environmental and structural reports; and other legal documents that make a transaction more complex. Several professionals with different skills and expertise are needed to ensure that the buying and selling transaction goes smoothly, on schedule and conforming to the legal requirements. But there is one individual involved at almost every phase of the transaction – the Realtor. This week I've been reminded of all we really do to make some make transactions happen and to keep transactions together. This week I've been reminded why I should "charge what I'm are worth and not apologize for it". And its only Tuesday . . . . so here is a lot of what goes on behind the scenes:
Negotiations w a buyer and a seller (USUALLY BROUGHT TOGETHER BY A REALTOR)
Then:
Mortgage Lender
Appraiser
Termite Co
Surveyor
Home Inspector
Underwriter
Structural Engineer
Specialty Services – HVAC, Plumber, Roofer
Title Co
Closing Coordinator
Insurance Underwriter
County Recorder
All these services are in constant communication with the Realtor, not necessarily with each other but always with the Realtor. The process is long, constant, tedious, and often times challenging.
The moment things go wrong everyone calls the Realtor, everyone looks to the Realtor to fix the problems and often times by "kicking in" more commission.
In the negotiations when buyer and seller are thousands apart nobody says let's call the lender, the surveyor, the HVAC guy, and everyone else involved to see who all can give. They would be laughed out of the room but somehow the Realtor's commission is part of the fees being negotiated. And it always seems that the deals where the Realtor negotiates their commission are the deals where one party is not appreciative at all and just expect more and more.
Turning over a new leaf – Charging what I'm worth and I'm not gonna apologize. If someone can't appreciate my value then I need to save that space in my schedule for ones who do. Appreciative clients are out there and those are the ones I choose to do business with! There's no more room on my calendar for people who think "What's mine is mine and what's yours is negotiable"! end of vent . . .